Welcome
Mitochondrial research has experienced a renaissance period over the last 15 years. The Mitochondrial Meetings organized in Albany, NY, and Padua, Italy, since 1993 have significantly contributed to this renaissance, and this Workshop is meant to continue that tradition by covering both classical themes of mitochondrial bioenergetics and emerging issues of mitochondrial dynamics and signalling. The programme includes speaker and poster sessions on:
measuring mitochondria
biogenesis and protein import
metabolism and ROS
uncoupling proteins
Ca2+ and mitochondria
mitochondria in excitable tissues
mitochondria and apoptosis
mitochondrial morphology and movement (three sessions)
A key aspect of the Workshop will be the poster sessions, which we expect to be lively, interactive and at the very heart of the meeting given the small size, the selection of the participants, and the presence of experienced Chairs who will moderate the poster briefings. Attendance will be limited to 110 (including 30 speakers), a perfect size to stimulate active participation, especially of younger scientists. Eighty attendees will be selected by the Scientific Committee based on their CV and the submitted abstract.
Scientific Committee
Paolo Bernardi · ITALY
Michael Duchen · UNITED KINGDOM
Gyorgy Hajnoczky · USA
Xavier Leverve · FRANCE
Tullio Pozzan · ITALY
Peter Rehling · GERMANY
Eduardo Rial · SPAIN
Rosario Rizzuto · ITALY
Luca Scorrano · ITALY
Orian Shirihai · USA
Organizing secretariat
For additional information, contact Azuleon Meetings

Venue
The workshop will be held in the University Residential Centre of Bertinoro - Bertinoro, near Forlì-Cesena, Italy. Information about this beautiful medieval fortress recently converted to a modern conference venue is available through the Centre's website.
Attendees will be hosted on a Bed & Breakfast formula in single or double rooms at the venue's facilities, from 25-29 November.
Detailed instructions on how to reach Bertinoro and the Workshop venue are available here.
DOWNLOAD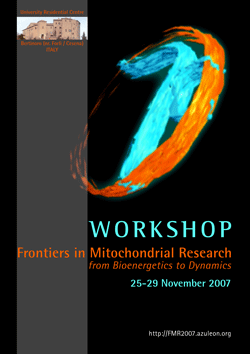 Download the high-resolution poster:
Sponsored by